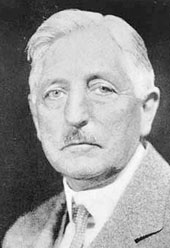 Lee Sullivan McCollester (June 5, 1859-December 26, 1943) was a Universalist minister, Professor of Religious Literature and Chaplain at Tufts College (now University), and the third Dean of its Crane Theological School. During his tenure he revitalized the school, reformed its curriculum to emphasize the practical side of ministry, and increased the size of the student body.
Lee was born to Fanny Sophia Knight and Sullivan Holman McCollester in the country town of Westmoreland, New Hampshire in the valley of the Connecticut River. Throughout his life, no matter where he worked, he considered this area as home. Sullivan McCollester (1826-1921), a graduate of Harvard Divinity School, was the minister of the Universalist Society in Westmoreland, 1858-62. He had served in Swanzey, New Hampshire, 1854-58, and next served churches in Westbrook, Maine, 1862-69, and Nashua, New Hampshire, 1869-72, before he became the first president of Buchtel College in Ohio, 1872-78.
Lee's first schooling was in Westbrook and Nashua. After private preparatory work, he attended Buchtel College for two years, 1877-79. He spent a year in London, England, taking courses at London College, then completed his studies for the A.B. at Tufts College. He received his degree in 1881 and immediately entered the Tufts Divinity School, from which he received the S.T.B. in 1884. He was ordained and installed as minister of the Universalist Church in Claremont, New Hampshire, only a few miles from his birthplace, and where he had already been working as the student minister for half a year. A few months later he married Lillian A. Wright of Troy, New Hampshire. She died a year later. They had no children.
In 1888 the pulpit committee from the Church of Our Father, Universalist, in Detroit, Michigan visited McCollester and persuaded him to become their minister. The new settlement lasted almost a quarter of a century. In 1889 he returned briefly to Claremont and there married Lizzie S. Parker, the daughter of Judge Hosea W. Parker, a well-known New Hampshire lawyer and Universalist layperson. They had two children. Their home in Detroit, and later at Tufts, was always, as a friend observed, "a shining example of what cultured, unselfish folk can create." She died in 1929.
Although the Detroit congregation found McCollester's early sermons learned and valuable, some felt that something was missing. The Chair, together with another member of the Board of Trustees, visited him. "Your sermons," he said, "leave little to be desired as literary accomplishments. You have told us what Tolstoi, Tennyson, Carlyle and Emerson think about religion but what we want to know is what Mr. McCollester thinks." From then on McCollester left his parishioners in no doubt about what he believed.
Isaac Smith, who joined the church in 1910 and later became a Universalist minister, said that the Universalist church was known in the city "as a center of learning in religion, ethics, travel, public morals, national welfare, and international relations." The morning service was devoted to the "liberal interpretation of religion." The evening service, after brief devotions, were lectures, often with lantern slides. Some of these were given by McCollester, others were delivered by professors, doctors, authors, editors, and government officials. These services, along with a weekday series of lectures, declared Smith, became "a Detroit institution."
The church school and youth, ladies, and men's activities were also vigorous. The church had a baseball team, a tennis club, and a swimming club. It was the original home of The Pathfinders Club, which engaged teenagers in social projects and which was especially known for its programs to help people in prison. The club eventually became an independent national and international organization.
While in Detroit McCollester was a friend of Henry Ford. He delighted in recounting that Ford had asked him to invest five hundred dollars in his fledgling automobile company. On the advice of his banker, he declined. If he had invested, he chuckled, "I would have been able to buy the bank for a place to keep my surplus funds."
McCollester was president of the Michigan Universalist Convention, 1895-1905, served on the Board of Trustees of the Universalist General Convention, 1906-23, and was its president, 1915-1919, and its chair for twelve years. While never engaged in politics, he was Chaplain General of the Sons of the American Revolution. He was a member of Phi Beta Kappa and the Masons. In 1899 Tufts College granted McCollester an honorary S.T.D.
In 1912 Tufts College, at the urging of its theological alumni, recruited McCollester as the third Dean of the Divinity School. He was also elected Packard Professor of Christian Theology. He served as the College Chaplain, 1919-40. As dean he faced a difficult, almost hopeless, challenge. Tufts had established the school in 1869 but had never adequately financed it. Furthermore, the Universalist General Convention and its member churches lacked the resources to properly support any of their theological schools. As a result Tufts never had more than a few students. There were just four in 1912.
McCollester prepared programs to create for the school "a new place among professional schools in the training of men for efficient religious leadership." He revised the curriculum to emphasize both the social mission of the Church and "the problems of the souls of man." His first faculty appointment, in 1914, was the minister Clarence Russell Skinner, a social progressive and a pacifist, who during the First World War vocally condemned the carnage that the war had brought to the world. Furious, the president of Tufts turned over the divinity school's buildings to the temporary military units on the campus. Although McCollester did not share Skinner's pacifism, he nevertheless stood by his teacher, converted his college home into classroom space, and thus saved the school from closing.
By 1924 the size of the student body was 24. When he retired it had reached 45. Included in this figure were students of several denominations. Among the faculty, full and part time, were several distinguished teachers: John M. Ratcliff (Religious Education), William F. Wyatt (Greek), J. A. C. Fagginger Auer (Church History, Philosophy of Religion), Alfred S. Cole (Homiletics), and Bruce W. Botherston (Philosophy).
The appointment in 1919 of John A. Cousens, a Universalist businessman, as Tufts president was critical to the School's growth. McCollester and Cousens developed a strong working relationship that became warm friendship. By the end of the 1920s the school's administrative and classroom building, Miner Hall, had been renovated and an arcade, a chapel, and a library added to its dormitory, Paige Hall. The school's financial situation, although still somewhat embarrassed, had improved.
McCollester taught one of the most popular courses at Tufts, "The English Bible," open to all students. It is estimated that over 15,000 students took it. He was popularly called "Dr. Mac." In his Baccalaureate address to the Class of 1931 he said, "This is the fiftieth anniversary of my graduation. Fifty years to you looks long; to me it looks short. As long as we have measurable bodily vigor and keen interest, life can never grow stale or lose its spice of adventure. After fifty years I do not desire to live my life over, but with my experience I would like to go with you into the next fifty years."
In 1932 the Tufts Trustees accepted McCollester's request for retirement and his recommendation that Skinner succeed him. They made him Dean Emeritus, allowed him to keep his home on Professors' Row, and permitted him to teach his English Bible course for two weeks each term. In 1937 his colleagues and friends created the McCollester Professorship of Biblical Literature.
McCollester promoted the growing Universalist Historical Library, housed at Tufts. He was its Librarian, 1912-38, and was president, 1942-1943, of the national Universalist Historical Society. He was also a trustee of Buchtel College, a trustee of Dean Academy, and a member of the American Academy of Arts and Sciences. One of his great joys was a retreat group which he had helped to form, the Fraters of the Wayside Inn, which met annually in Sudbury, Massachusetts. In 1939 the Fraters held a testimonial dinner celebrating his 80th birthday. His last years were spent at Claremont preaching, reading, tending his vegetable garden, and traveling.
While McCollester never wrote a book, he was often a contributor to The Universalist, the Wayside Pulpit, The Universalist Leader, The Christian Leader, and the Tuftonian. Some of his sermons were published. The bulk of his writing, however, was contained in administrative reports. In 1938 he delivered at Tufts the Russell Lecture, "Religion, learning and men of the free spirit." In 1939 he wrote, for the symposium, Tufts Papers on Religion, "What Immortality Means to Me." That same year the Unitarian Meadville Theological School, by then in Chicago, gave him an honorary D.D.
Death
McCollester died suddenly in Darien, Connecticut, while celebrating Christmas with his daughter and grandchildren. A few days before, at Goddard Chapel, he had read selections from Charles Dickens's A Christmas Carol for the Tufts College Women's Club. This reading had long been a holiday tradition in his English Bible course.
A memorial service was held at Tufts and a funeral service at his beloved Claremont church. For many at Tufts, he was thought of as the college's "Mr. Chips." McCollester House, a graduate residence, honors his memory. Frederick May Eliot, president of the American Unitarian Association, wrote in the Christian Register that "he was 'an Elder Statesman,' first of all among Universalists but in a real way for all of us to whom the cause of free religion and liberal Christianity is dear."
Sources
The Andover-Harvard Theological Library, Harvard Divinity School, has McCollester's Universalist Church of America minister file. See the Tufts University Archives for his administrative papers while Dean of its Crane Theological School. The definitive account of McCollester's Tufts period is in Russell E. Miller, "A History of Universalist Theological Education," Proceedings of the Unitarian Universalist Historical Society (1984). See also Russell E. Miller, Light on the Hill: A History of Tufts College, 1852-1952 (1966); "Lee Sullivan McCollester," Concise Encyclopedia of Tufts History, The Digital Library (on-line), Tufts University Digital Collections and Archives; and Alfred S. Cole, "Never Going to Die," Tuftonian (Fall 1944). There are obituaries in the Christian Leader (January 15, 1944), the Christian Register (January 1944), the Tufts Weekly (December 30, 1943), the Boston Globe (December 27, 1943), and the Boston Herald (December 27, 1943)
Article by Alan Seaburg
Posted March 18, 2007