James Relly (c.1722-April 25, 1778) was, as a young British minister, one a sizable group of Methodist preachers, including George Whitefield and John Wesley, whose itinerant preaching initiated a sweeping revival in large parts of Great Britain during the mid-18th century. Wesley and Relly eventually separated from Whitefield in their theologies. While Wesley moved towards Arminianism, Relly became a universalist. Relly's new preaching converted John Murray, who afterward spread Rellyism along the eastern seaboard of America.
James Relly was born in the Saundersfoot neighborhood of 'Little England', an English-speaking area of Pembrokeshire in southwest Wales. Educated at the local grammar school, he had been apprenticed as 'a cow-farrier'. But English-speaking evangelists—Whitefield, Wesley and many Moravian preachers—were drawn to the 'fields white unto harvest' in Wales. Accounts differ as to whether James Relly and his brother, John Relly, were converted by Whitefield in 1741 or by his local adjutant, John Harris of South Kennox, in 1743. In years to come Relly would drastically modify Whitefield's Calvinistic message. Yet, as he wrote in 'An Elegy written on hearing of the much-lamented death of the Rev. Mr. George Whitefield', he always retained for him "the love, the Rev'rence to a father due".
Following his conversion, Relly became a Calvinistic Methodist preacher at Rhyddlangwraig, Narberth, Pembrokeshire. Beginning in 1746, he evangelized throughout the West and Midlands of England, in Bristol, Portsmouth, Exeter, Bath, Bromsgrove, Birmingham and Tewkesbury. From Tewkesbury he wrote, "We were assaulted by such a furious mob, that all was turned into confusion. They flapped the tables, stamped on the floor, pushed the people, swore, cursed, laughed, pricked with pins, threw handfuls of snuff, and brickbats and dirt".
In about 1746 Relly reached the peak of his career as a Calvinistic Methodist, having risen to become one of the many preachers at the London Tabernacle in Moorfields. However, his extraordinary enthusiasm for the possibility of salvation for all souls worried Howel Harris, whom Whitefield had left in charge while he was away in America, as well as others of the preachers. Relly was dismissed. He returned to Wales.
In 1751 there occurred a Methodist disruption in Wales. John Harris and James and John Relly were involved. They chose to separate "respecting Freeness, and Extent of Grace". James Relly always denied that by enlarging the extent of the atoning grace of Christ's death, he had become a universalist. Others felt he had clearly done so. According to universalist logic, if all had sinned in Adam, then all were saved in Christ. That reasoning was the theme of Relly's book, Union: or a treatise of consanguinity and affinity between Christ and his Church, published in London in 1759. The book, reissued many times, made him well known in both Britain and America.
After the Methodist disruption of 1751, a sect emerged known as the Rellyites, or Rellites. The Rellyites had meeting houses at Pembroke and Templeton in Pembrokeshire and a hymnbook, Christian hymns, poems and spiritual songs, published in London in 1754, to which both James and John Relly contributed. Years later, John Murray republished the hymnbook in America, adding some hymns of his own. The Pembrokeshire Rellyites were on friendly terms with the Moravians and were probably later absorbed into their churches.
Meanwhile, James and John Relly seem to have parted. James was preaching freelance. In 1756 he was in Carrickfergus, Ireland, north of Belfast, and causing problems for John Wesley who regarded him as an antinomian troublemaker. Wesley wrote in a letter of 1761 that Relly and his friends abhorred him, Wesley, "as much as they do the Pope, and ten times more than they do the devil". The rivalry between Methodists and Universalists, so intense in 19th century America, was begun in the 18th.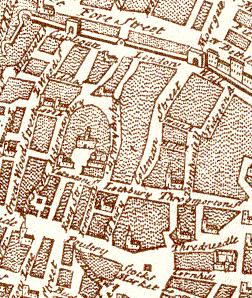 From about 1757-64 Relly was back in London preaching to his own congregation at Coachmaker's Hall in Addle Street. There, according to John Murray's autobiography, Relly was drawing the wrath of his former orthodox colleagues "as a man black with crimes; an atrocious offender, both in principle and practice". Later he and the congregation moved to Bartholomew Close and Crosby Square, both nearby in London.
While Relly was still at Coachmaker's Hall, the young John Murray, then zealously anti-Rellyite, called upon a Rellyean disciple to convince her of her error. Much to his confusion, the woman confounded him with her logic. Probably early in the 1760s, on a Sunday when his own minister was away, Murray and his wife attended a service to hear Relly.
About that service Murray wrote many years later in his autobiography, '. . . there was no vestige of grandeur either within or without. . . there were no seats save a few benches; and the pulpit was framed of a few rough boards, over which no plane had ever passed. The audience corresponded with the house. They did not appear to be very religious; that is they were not melancholy; and I therefore suspected they had not much piety. I attended to everything. The hymn was good, the prayer excellent, and I was astonished to witness in so bad a man so much apparent devotion. . .'
Death
James Relly died in 1778. He was buried in the Maze Pond Baptist Burial Ground, Southwark, London. He left a widow, a daughter and his congregation, a part of which survived in Windmill Street until the 1820s. There were also some small, unstable Rellyean Universalist societies in Dorset and Wiltshire as well as the Universalist society in Plymouth before whom his namesake, John Relly Beard (1800-76), first principal of the Unitarian College Manchester, preached his first sermon.
But Relly's lasting heritage was conveyed to America by his most devoted disciple, John Murray. Murray emigrated to New England, after a time of grief and trouble, with a set purpose to lead a quiet, reclusive life. He instead became a celebrated evangelist and a founder of the organization that eventually became the Universalist Church of America (which merged in 1961 with the American Unitarian Association to form Unitarian Universalist Association).
Sources
There are references to James Relly in the John Murray Papers at New York Historical Society and in the Judith Sargent Murray Papers at the Andover Harvard Theological Library in Cambridge, Massachusetts. Also at the Andover Harvard Theological Library is Relly's commonplace book for the years 1764-71. Otherwise, no known manuscripts of James Relly survive. Relly's published writings, besides the hymnal and Union, include Salvation completed (1753), The Tryal of Spirits (1756), Anti-Christ resisted (1761), The Life of Christ (1762), The salt of the sacrifice: or, The true Christian baptism delineated (1762), The Sadducee detected and refuted (1764), Christian Liberty (1775), Epistles, or the Great Salvation Contemplated (1776), Thoughts on the cherubimical mystery (1780), and a poem, "An Elegy written on hearing of the much-lamented death of the Rev. Mr. George Whitefield" (1770).
The primary source of information about Relly is Walter Wilson's History and antiquities of Dissenting churches and meeting houses in London, Westminster and Southwark (1808). Wayne K. Clymer's account, "The life and thought of James Relly" in Church History (1942) is a useful account of Relly's religious thought, but less reliable on historical detail. Clymer mistakenly regards Elhanan Winchester as Relly's successor. John Murray's relationship with Relly is recounted in Murray's Life of Rev. John Murray . . . written by himself (1816). Other details are supplied by the literature of Calvinistic Methodism and the published Letters and Journals of John Wesley. There are articles on Relly, by Alexander Gordon in The Dictionary of National Biography and by Andrew Hill in the New Dictionary of National Biography (forthcoming 2004).
Article by Andrew Hill
Posted July 17, 2000