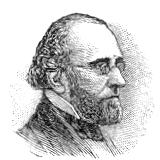 George Ripley (October 3, 1802-July 4, 1880), minister of the Purchase Street Church in Boston, 1826-41, was a central figure in the Transcendentalist movement of the 1830s and 40s, a founder in 1841 of the Brook Farm commune, and later one of America's most prominent literary reviewers and critics.
Ripley graduated from Harvard College in 1823 and from Harvard Divinity School in 1826. Upon taking up the pastorate of the newly formed Purchase Street Church in Boston, he established a ministry in which theological scholarship was an important part. Ripley was a regular contributor to the Christian Examiner in the 1830s, the leading Unitarian theological journal of the day. In all his writing and preaching, he embraced a view of religious truth as "intuitive" rather than empirical and championed the new waves of liberal religious thinking coming out of Europe, represented in the works of Friedrich Schleiermacher, Victor Cousin and others.
In the 1830s the theological ferment among the younger generation of Unitarian ministers coalesced into the "new views" of Transcendentalism. Ripley was a leading spokesman of the movement. In 1836 he engaged Andrews Norton, the great Biblical scholar at the Divinity School known as "the Unitarian Pope," in a printed and widely read controversy over the importance of the Biblical miracles. The terms of their disput helped to define Transcendentalism and changed the course of Unitarian theological development.
In an essay on the English Unitarian James Martineau, Ripley had argued that a belief in miracles was not "the essential foundation of the Christian faith, or the ultimate test of Christian character." Norton then castigated Ripley's view, as "vitally injurious to the cause of religion,"and insisted that the miracles were "the only evidence on which the truth of Christianity as a revelation must ultimately rest." Ripley replied that Norton's argument revealed an underlying philosophical materialism which was "superficial, irreligious and false in its primary elements." The difference—over whether authentic religion is dependent upon empirical proof, or is, as Ralph Waldo Emerson said in his Divinity School Address, "an intuition [that] cannot be received at second hand"—was the philosophical point of division between classical Unitarians and their radically Transcendentalist offspring. To bring the latest European philosophy to America, Ripley initiated and oversaw a publishing project, involving several important Unitarian and Transcendentalist scholars. He published, in a series titled Specimens of Foreign Standard Literature, 1838-45, translations of 15 important European texts.
In 1827 Ripley married Sophia Dana, daughter of a prominent Boston family and described by biographer O. B. Frothingham as "a woman of burning enthusiasm, warm feeling, and passionate will." Sophia Dana Ripley was also a formidable intellectual with a strong aesthetic sensibility. She shared many of her husband's religious and intellectual interests and also, at least initially, his growing commitment to social justice as he became increasingly engaged with the movement known as "Associationism," an early form of socialist theory which stressed cooperative, non-competitive social arrangements whose design and practice would bring universal human harmony.
Throughout the 1830s and 40s there was much talk among Boston's intellectuals of reform and communal experiment. In 1840 Ripley read Albert Brisbane's The Social Destiny of Man, an exposition of the theories of the French utopian social theorist, Charles Fourier. At a meeting of the Transcendental Club in October, 1840, he announced his plan for the commune that would be called Brook Farm. Writing to Emerson on November 9, 1840, in hopes of persuading him to join the experiment, Ripley described Brook Farm as a cooperative enterprise founded on Associationist principles, to be based on a small farm and incorporating "a school or college, in which the most complete instruction shall be given, from the first rudiments to the highest culture." This rearrangement of social life would "insure a more natural union between intellectual and manual labor" and "guarantee the highest mental freedom, by providing all with labor, adapted to their tastes and talents, and securing to them the fruits of their industry."
As Ripley's description indicates, the underlying assumption of the experiment, and of Fourierist philosophy, was that work necessary to support a community could be distributed in such a way as to match people's tasks with their individual desires and ability to do them. A classless, non-competitive society would result. Every individual would both find personal fulfillment and contribute to the well-being of the group.
The strength of Ripley's attraction to utopian experimentation may have been partly an outgrowth of his increasing dissatisfaction with the ministry as a vehicle for social reform. The state of the Purchase Street Church is described succinctly by Frothingham. "The neighborhood deteriorated; money fell short; the minister had misgivings in regard to his fitness for professional work." Ripley preached a farewell sermon to his congregation on March 28, 1841, and Brook Farm became a reality in April. One of the most famous utopian experiments in American history, Brook Farm was in some senses a success, but disbanded in 1847 after a disastrous fire brought financial collapse. Its historical reputation has been enormously enhanced by the cultural significance of the Transcendentalist movement and by the participation, as members or interested visitors, of such figures as Ripley, John Sullivan Dwight , Nathaniel Hawthorne, William Henry Channing, and Margaret Fuller. Brook Farm officially declared itself a Fourierist Phalanx in 1845. Ripley then established The Harbinger, 1845-49, a periodical devoted to the exposition of Associationist theory. During its six years of life, American thinking about social reform was centered around Brook Farm. Hawthorne's dark satire of communal life, The Blithedale Romance, 1852, further extended the literary fame of the experiment.
Having sunk all his resources—intellectual, emotional and financial—into creating and sustaining Brook Farm, Ripley was broken by its demise. His difficulties were augmented by a growing intellectual and emotional rift between the Ripleys, signaled most dramatically by Sophia's conversion to Catholicism. Though a co-founder of Brook Farm who worked intensely to sustain it, Sophia had not wholly approved the commune's embrace of Fourierism in 1845. Her interest in Catholicism was stirred by growing doubts about the Associationist movement. With the encouragement of Orestes Brownson and others, she privately converted in 1846, though she did not make her conversion public until 1847 so as not to complicate Ripley's efforts to save the commune. The turmoil of her conversion and the death of Brook Farm resulted in a further spiritual crisis for Sophia in 1848, which Ripley helped her to weather despite his lack of enthusiasm for her new religious path. But with her absorption in Catholicism and his struggle to make himself over into a journalist, their marriage was greatly strained in the 1850s. Biographer Charles Crowe writes that eventually "a measure of good humor and ease returned to make life a bit more tolerable." Sophia died in 1861 from complications of an earlier injury.
Faced with poverty and debt, Ripley had begun to do freelance journalism, and in 1849 took a position under Horace Greeley at the New-York Tribune. Though favorably disposed intellectually to the Associationist theory of labor, Greeley was a demanding employer in practice. Ripley stayed afloat economically by doing long months of hack work while he gradually grew more adept as a journalist. Eventually, he found financial success with the publication of his New American Cyclopedia, 1858-1863, a 16-volume reference work which was both popular and very profitable. This and other projects, along with his stature as a reviewer, critic, and editor, brought Ripley some considerable affluence and influence in the 1860s and 70s.
In 1865 he married Louisa Sclossberger. He and his new wife were active in New York social and literary life. Thus the leader of the Brook Farmers was again at the center of American culture in the Gilded Age. Plagued by disability and ill health in his last year, Ripley continued to write until his death on July 4, 1880.
Whatever the success of his last decades, it was Ripley's earlier articulation of the philosophical principles of Transcendentalism and his brave, high-minded experiment at Brook Farm that left their mark on history. His clear and agile mind and his remarkably wide learning made him an enormous asset to the progressive movements of the 1840s. His career illustrates both the opportunities and limitations 19th century American intellectuals faced as the young American nation came of age.
Sources
The Boston Public Library, the Massachusetts Historical Society, and the Houghton Library, Harvard University, have the largest collections of Ripley's papers. Charles Crowe has prepared a comprehensive bibliographical essay in The Transcendentalists: A Review of Research and Criticism, ed. Joel Myerson (1994), pp. 242-52. Ripley wrote extensively for the Christian Examiner during his Purchase Street Church ministry, and many of his essays there, especially "Schleiermacher as a Theologian," Christian Examiner 20 (1836); and "Martineau's Rationale of Religious Inquiry," Christian Examiner 21 (1836); were influential in the emergence of the Transcendentalist movement. His Discourses on the Philosophy of Religion (1836) is an important summation of his theological position. Selections of Ripley's writings during the Transcendentalist controversy can be found in Perry Miller, The Transcendentalists: An Anthology (1950) and Joel Myerson, Transcendentalism: A Reader (2000).
Charles Crowe's George Ripley: Transcendentalist and Utopian Socialist (1967) is the standard biography. It can be usefully supplemented with Octavius Brooks Frothingham's George Ripley (1886) and Henry L. Golemba's George Ripley (1977). Helpful briefer biographies include Joel Myerson, The New England Transcendentalists and the Dial (1980); David Robinson, The Unitarians and the Universalists (1985); and Susan M. Stone, "George Ripley," The American Renaissance in New England. Third Series [Dictionary of Literary Biography Volume 235], ed. Wesley T. Mott (2001).
For discussions of the Transcendentalist Controversy, in which Ripley was a key player, see William Hutchison, The Transcendentalist Ministers: Church Reform in the New England Renaissance (1959); and David Robinson, The Unitarians and the Universalists, pp. 75-86. Ripley's magazine The Harbinger is discussed in Sterling F. Delano, The Harbinger and New England Transcendentalism: A Portrait of Associationism in America (1983). For more general overviews of Transcendentalism, see Alexander Kern, "The Rise of Transcendentalism, 1815-1860," Transitions in American Literary History, ed. Harry Hayden Clark (1954); Barbara L. Packer, "The Transcendentalists," in The Cambridge History of American Literature, ed. Sacvan Bercovitch (1995), Volume 2; and David Robinson, "Transcendentalism," Encyclopedia of American Cultural and Intellectual History, ed. Mary Kupiec Cayton and Peter W. Williams, 3 vols. (2001).
For discussions of Brook Farm, see Lindsay Swift, Brook Farm: Its Members, Scholars, and Visitors (1900); Anne C. Rose, Transcendentalism as a Social Movement, 1830-1850 (1981); Joel Myerson, The Brook Farm Book: A Collection of First-Hand Accounts of the Community (1987); Carl J. Guarneri, The Utopian Alternative: Fourierism in Nineteenth-Century America (1991); and Richard Francis, Transcendental Utopias: Individual and Community at Brook Farm, Fruitlands, and Walden (1997).
Article by David Robinson
Posted November 3, 2001