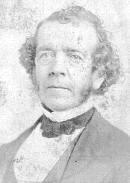 John Turner Sargent (July 12, 1807-March 26, 1877) served as a Unitarian minister-at" align=right>t-large in Boston for eight years. Deeply committed to the poor and to freedom of the pulpit, he was active in many causes, including woman's suffrage and the abolition of slavery.
Born on Beacon Hill and baptized at King's Chapel, Boston, John was the first of John Turner Sargent and Christiana Keadie Swan's three sons. He was related to Judith Sargent Murray, painter John Singer Sargent and Supreme Court justice Joseph Story. He and his first wife, Charlotte Sophia White, were born into families made rich by shipping and other merchant enterprises. Sargent used his portion of this wealth to support his family and reform efforts.
Sargent graduated from Harvard in 1827 and from the Divinity School in Cambridge in 1830. After several years of candidacy for vacant parishes, in 1836 he accepted an invitation from the Benevolent Fraternity to serve as a minister-at-large to the urban poor of Boston. He was charged to gather a free chapel in the South End, whose members would not be expected to support the church financially. Sargent visited the poor in their homes, following the practice of the Rev. Dr. Joseph Tuckerman, the first minister-at-large.
As his ministry grew, Sargent used his family connections to raise money for building the Suffolk Street Chapel. At the service of dedication in 1840, he promised, "its pulpit is free—show us but the man duly authorized to speak, whose heart is filled with a religious sympathy,—whose mind is active or a live with a desire to do good, and here, in the name of truth, he may stand forth and have his utterances, even though he may not translate the word as precisely as we do."
Sargent's interest in a free pulpit was not new. In perhaps one of the first sermons he ever preached, at King's Chapel on Thanksgiving Day, 1833, he wrote: "and let every religious sectarian know and rest assured that every time he indulges a cold hearted or exclusive prejudice; and as often as he withholds his charities or fellowship from another man because he is not of his creed, society or sect he is activated by a want of feeling—a want of principle,—a want of everything like true Christian benevolence."
A year later, in 1834, his uncle Lucius Manlius Sargent worked unsuccessfully to convict Rev. Abner Kneeland of the charge of blasphemy. Four years later, when Kneeland was finally convicted and became the last man jailed for this crime in Massachusetts, Unitarian divine William Ellery Channing spearheaded an effort to convince Gov. Edward Everett to pardon Kneeland. Sargent was among those who signed the June 18, 1838 petition, no doubt moved by the clause "freedom of speech and the press is the chief instrument of truth and of social improvements, and is never to be restrained by legislation."
On May 19, 1841 Sargent's friend Theodore Parker preached his "Discourse on the Transient and Permanent in Christianity" at the ordination of Charles Shackford. Sargent offered the Right Hand of Fellowship, welcoming the new minister to the company of "every teacher of the word, whose speculations, however wide from ours, are based upon a sincere faith in Christ."
Samuel Kirkland Lothrop, minister of the Brattle Street Church, and Executive Secretary of the Benevolent Fraternity, stated in the Boston Courier that he disapproved of Parker's sermon and Sargent's remarks. Sargent responded in the same public forum, wondering if he had made a statement "more latitudinarian than even Unitarianism would allow." He challenged Lothrop to show him "mistaken in supposing that Unitarians do, or will welcome as a brother, any one whose views diverge from that something which they call the Unitarian creed."
Parker's controversial sermon provoked a backlash from his ministerial colleagues. Most decided to no longer exchange pulpits with him. Sargent refused to abandon his friend, however. Following their third pulpit exchange, in November 1844, the Central Board of the Benevolent Fraternity sent two prominent laymen to hand-deliver a private letter to Sargent, rebuking him for the exchange. Sargent interpreted this gesture as a bid to restrain his freedom of the pulpit. At the same time the Benevolent Fraternity urged all the ministers-at-large to exclude Parker from their pulpits. Unwilling to promise he wouldn't exchange again, Sargent politely resigned.
After the Central Board issued a letter suggesting they had acted "in the freest and most candid spirit," Sargent demanded that Lothrop, now editor of the Christian Register, publish the private letter the laymen had delivered to him. When Lothrop refused, Sargent angrily resigned for good, protesting a "sentence of exclusion with regard to any Unitarian minister." In his next sermon, "Obstacles to the Truth," he denounced the "rigid and constraining influences of early education," the "foreclosing of the privileges of the pulpit" and the "fear of inquiry" that risked sabotaging the Unitarian spirit. He wrote to Caroline Dall, "The word of proscription, has therefore gone forth at last (only think of it) from Unitarian lips, ay, from the heart of a Fraternity!"
Sargent never abandoned his defense of freedom of the pulpit. In 1853, though the American Unitarian Association was then still only a non-profit corporation which sponsored missionary endeavors and had no ecclesiastical authority, he wrote an angry and sarcastic letter to the Secretary, demanding assurance that Unitarians would never establish a creed. For the rest of his life, Sargent fulminated over the pulpit exchange controversy in letters to friends and in other writings. Thomas Wentworth Higginson thought he never recovered from the quarrel and the loss of his ministry to the poor.
While a minister-at-large, Sargent had quietly begun to associate with abolitionists. Shortly after his resignation he co-authored "A Protest Against American Slavery by One Hundred and Seventy Unitarian Ministers." In 1846 he invited abolitionist James Russell Lowell to write a poem for his installation service at the First Unitarian Church in Somerville, Massachusetts, and claimed that he "had consented to serve the people in Somerville . . . on condition of the most entire freedom of the pulpit in regard to the great questions of reform." Before he resigned two years later due to ill health, Sargent championed anti-slavery meetings at the church and, in support of temperance, stopped the use of wine in communion services.
Sargent's last ministerial settlement was with the South Universalist Society in Boston, 1849-50, but again he had to resign for health reasons. He joined Parker's Twenty-Eighth Congregational Society. During an extended stay in Europe, he represented the Society at a Peace Convention in Frankfurt, Germany and recuperated at the homes of English abolitionists, the Rev. James Martineau and his sister Harriet Martineau.
Upon his return to the United States, Sargent began to devote himself fully to reform. In October, 1850 he represented liberal clergy at a Women's Rights Convention in Worcester, Massachusetts, beginning his active support for women's rights. In 1851 he was among the founders of the New England School of Design for Women, and two years later, signed a petition to the Commonwealth of Massachusetts for woman's suffrage. In 1854, Sargent began his twelve year relationship with the Boston Provident Association, now the Family Service of Greater Boston, the city's oldest non-profit human services agency. He also joined Theodore Parker and Wendell Phillips in a reform effort to combat prostitution by becoming the General Agent for the Guardian for Friendless Girls. In 1870 he successfully led a campaign to add a woman to the board of the American Unitarian Association.
Sargent's commitment to abolitionism also intensified in 1850, when he became a member of the Boston Vigilance Committee, organized to protect fugitive slaves. He was chosen President of the New England Anti-Slavery Conventions held in Boston in 1859 and 1860. When Samuel Gridley Howe and Julia Ward Howe rented his home from 1863-66, they made it a stop on the Underground Railroad. Sargent was a trusted confidant of William Lloyd Garrison, Wendell Phillips and Charles Sumner. From 1852-71, he was a member of the Executive Committees of both the Massachusetts Anti-Slavery Society and the American Anti-Slavery Society. When these organizations dissolved after ratification of the Fifteenth Amendment, the final meetings were held in his home. At a joyous celebration of the ratification in Fanueil Hall, Sargent was among the abolitionist leaders publicly recognized.
During his last decade Sargent hosted meetings of the "Radical Club" in his home, whose progressive members debated religion, science and culture, considered by some a "second wave" of the Transcendentalist movement.
Having expended his inheritance upon his causes, Sargent died penniless, his library and furniture his only assets. At his funeral "a young woman begged a violet from the wreath on his bier." She said that years ago the minister-at-large "had found her family destitute, had gone out to buy meat, which he brought to the hungry house and cooked with his own hands." Her touching request seemed to others at the service a fitting testimony to his life.
Sources
Some of the letters and material pertaining to the life of John Turner Sargent can be found at the Boston Public Library, Rare Book Room, Boston, Massachusetts; Massachusetts Historical Society, Boston, Massachusetts; Houghton Library at Harvard University, Cambridge, Massachusetts; Andover-Harvard Theological Library, Harvard University, Cambridge, Massachusetts, Harvard Archives, Harvard University, Cambridge, Massachusetts; the New England Historic Genealogical Association, Boston, Massachusetts; the Sargent-Gilman-Murray House in Gloucester, Massachusetts; the Massachusetts Archives, Boston, Massachusetts; and the American Antiquarian Society, Worcester, Massachusetts. The records of the Suffolk Street Chapel have only recently been rediscovered, and are located at the Unitarian Universalist Association, Boston, Massachusetts. A number of Sargent's unpublished sermons, and other personal manuscripts are in the possession of a descendant. The Annual Reports of the Benvolent Fraternity of Churches (1837 to 1845) include annual and quarterly reports prepared by Sargent. Most articles and books that mention the 1844 pulpit exchange controversy from the perspective of Theodore Parker, also mention Sargent, but not in any depth. The pamphlet, In Memoriam: John Turner Sargent (1877), features a brief biography and some of the addresses at his funeral. Sargent wrote The Crisis of Unitarianism in Boston as Connected with the 28th Congregational Society (1859). He was also a regular contributor to the National Anti-Slavery Standard, and was often mentioned in the Liberator and the Woman's Journal
Article by David Pettee
Posted January 21, 2002 – revised October 31, 2002