Clarence R. Skinner (March 23, 1881-August 26, 1949), minister, teacher, writer and social activist, is widely regarded as the most influential Universalist of the first half of the twentieth century. He was born in Brooklyn into a thoroughly Universalist family-his parents and brothers were Universalists; a grandfather, great grandfather and great uncle were Universalist ministers. He attended St. Lawrence, a Universalist university, where he met and later married a Universalist classmate and fellow Phi Beta Kappa, Clara Louise Ayres.
Clarence's uncle, Otis Augustus Skinner, and a cousin, Cornelia Otis Skinner, were well known actors. While tempted to follow them in an acting career, he opted instead for the Universalist ministry. He received his training as assistant, 1904-06, to Frank Oliver Hall, minister of the Church of the Divine Paternity in New York City. In that position he helped his mentor establish a denominational Commission on Social Service. Skinner acted as secretary, while Hall was chair.
Following ordination in the spring of 1906, Skinner served the Universalist Church of Mt. Vernon, NY, 1906-11, and then accepted a call to Grace Universalist Church, Lowell, MA. He led the church through a period of revitalization and also established a highly successful Sunday evening program, the Lowell Forum, which featured well-known outside speakers. In 1914 he accepted appointment as Professor of Applied Christianity at the Crane Theological School of Tufts College.
A year later Skinner published The Social Implications of Universalism, an interpretation of the Social Gospel that went well beyond the scope of Protestant Christianity. In it, he offered an optimistic, socialistic vision of the "kingdom of heaven" to be established on earth. This was the first comprehensive theological treatment of Universalism to appear in many years, inspired a new interpretation of the church's mission, and established Skinner as a major spokesperson for the denomination.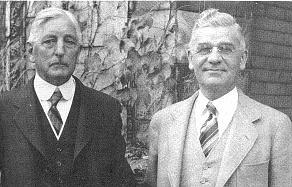 After the U. S. entry into the First World War, Skinner was widely attacked for his pacifist views but was staunchly defended by Lee McCollester, the school's dean. After the armistice, Skinner was again widely attacked, this time for his advocacy of a socialist new world order. The Medford Hillside Universalist Church terminated his part-time ministry, which he had used as a working laboratory for his students. There were complaints from alumni, and, following Skinner's political address at Boston's Fanueil Hall, the District Attorney called for an investigation of Skinner as a socialist subversive. Once again, Crane Theological School upheld his right to free expression. Nevertheless, because of the ongoing criticisms, Skinner became deeply disillusioned. Many reasons for his discouragement could be found in the state of his country and his church. The United States was in a state of reaction against liberal idealism and had rejected membership in the League of Nations. The Universalist denomination was declining at an alarming rate and the Social Gospel, a religious movement for social and economic justice, was all but dead. In spite of all this, Skinner managed to find the strength to go on. In a poem, "In Times of Disillusion," he wrote:
I'll still proclaim the "Vision Splendid,"
'Till it strikes God-fire
In old and broken hearts, and urges on
The world to consummate its dream.
God's unsurrendered! SO AM I! Therefore
I will live communicate with hope. I light
The candle and—I DREAM."
In 1920 Skinner created a vehicle for pursuing his vision, the Community Church of Boston, which was all-inclusive in its membership, and had no denominational ties. For the next 15 years he filled essentially two full-time positions-as the church's "leader" (the term "minister" was not used) and as a faculty member at Crane. In many ways the Community Church was modeled after the Lowell Forum, with outstanding guest speakers usually in the pulpit. John Haynes Holmes, who had resigned his Unitarian fellowship to establish the independent Community Church of New York, traveled to Boston to preach once a month. The church's statement of purpose was simple, calling for "a free fellowship of men and women united for the study of universal religion, seeking to apply ethical ideals to individual life and the cooperative principle to all forms of social and economic life." Its worship services were simple as well, a sermon followed by an open forum for questions, comments, and discussion. Services throughout Skinner's leadership were held in a series of rented halls, with attendance rising to over 1,200. The church was deeply involved in many social causes, including the Sacco and Vanzetti case, the Scottsboro case, aid to the Republican government of Spain, and the right of Margaret Sanger to publicly advocate birth control.
When McCollester retired from Crane in 1933, Skinner was appointed dean. With his promotion and resignation from church leadership, Skinner's life entered a new phase. Thereafter, his contributions were almost exclusively those of an educator. Although he administered the school, accepted speaking engagements, and continued to write, he was first and foremost a master teacher. During his tenure the school's faculty and student body grew both in size and diversity. By 1938 there were fifty four students from at least five denominational backgrounds, and a faculty of thirteen, most part-time, but having a broad range of talents and interests. Skinner's writings, in addition to numerous articles, included three books: Liberalism Faces the Future, 1937; Human Nature and the Nature of Evil, 1939; and A Religion for Greatness, 1945. The latter made a significant impact on Universalist thought.
The years of the Second World War were difficult. Skinner's pacifism was no longer an issue, but his health was failing and he found it increasingly difficult to meet his responsibilities. In 1945, as the war was ending, he retired. He was only sixty four, but he had undergone major surgery for colon cancer during the academic year and felt too tired to continue. At commencement Tufts recognized him with an honorary degree, his third, others having come from Meadville in 1926 and St. Lawrence in 1933. In his last four years Skinner made short trips with Clara, arranged for the disposal of his library and collection of religious artifacts, rested, and wrote his final book, Religion and a Well Ordered Life, published posthumously in 1955. Refusing to go a hospital, he died at his summer home in Long Ridge, Connecticut.
Despite his courage in speaking out on social issues and his skill as a classroom teacher, Clarence Skinner was a shy man, uncomfortable in most social situations. He was sustained largely through his close relationship with Clara (they had no children) and by a persistent commitment to the vision of a united world community. Skinner was basically a mystic who had "a feeling of active relationship between the self and a mystic, other, better world toward which the soul journeys in joy and triumph." Calling himself a Christian, and understanding Jesus as teaching "the active and socially effective virtues of love, cooperation and brotherhood as the true redemptive forces," his theology was centered on the mystical "creative power at the center of the whole universe evolving law and order on a majestic scale," a power which could lead men and women to "transform this old earth into the Kingdom of Heaven."
Skinner's thinking evolved significantly over his lifetime, from the optimism of the Social Gospel to a realism that recognized that the attainment of a united humanity depended on human choices. In his later years he came to emphasize what he termed "the unities" and "the universals." By "the unities" he meant "the coherence of what may seem to be separate into a oneness, an operative harmony, a functional relationship which belongs to all parts of a whole"; by "the universals" he meant that which had an absence of limits, "the antithesis of the limited, the opposite of the partial." "The unities refer to things as they truly are; the universals refer to things as they ought to be." To expand human understanding and actions to embrace "the universals," was, Skinner asserted, the essential human task. "[We must] so expand our spiritual powers that we vastly increase our understanding and sympathy. There is no middle way. It is greatness— universalism—or perish."
Sources
Skinner's papers are in the Universalist Special Collection at the Andover-Harvard Theological Library, Harvard Divinity School, Cambridge, Massachusetts. There is a bibliography of his writings and writings about him in the Annual Journal of the Universalist Historical Society (1964-65), updated in Charles A. Howe, editor, Clarence R. Skinner: Prophet of a New Universalism (1999). Although there is no full-length biography of Skinner, the following resources are helpful in the study of his life and work: Charles A. Gaines, "Clarence R. Skinner: Image of a Movement," Church History research thesis, Crane Theological School (1961); Charles A. Howe, "Clarence R. Skinner: Prophet of a New Universalism," in Charles A. Howe, editor, op. cit.; and Russell Miller, The Larger Hope, volume 2 (1985).
Article by Charles A. Howe
Posted October 31, 2000